Veitstanz
for a canned performer and 17 musicians
SCHWELBRANDORCHESTER, cond. Titus Engel, Berlin 2019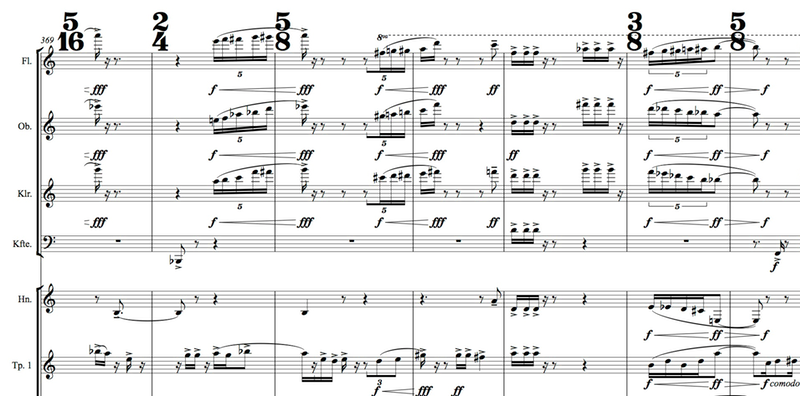 Year of composition:
2013
Publisher:
Commission of Ensemble Modern. World premiere by Ensemble Modern in Frankfurt on November 24, 2013.
Detailed instrumentation:
Flute, oboe, Bb clarinet, bassoon/kontraforte, horn, two trumpets, trombone, two percussionists, piano, keyboard/live electronics, two violins, viola, cello, double bass
Past performances:
November 24, 2013 Frankfurt · January 30, 2014 SR2 KulturRadio · June 15, 2014 hr2-Kultur · April 29, 2016 Paris · September 14, 2016 France Musique · March 14, 2019 Berlin · September 23, 2020 ONLINE · December 7, 2022 Berlin
Reviews:
With Martin Grütter, things get uncanny. He stages a game of deception, interleaves sounds, words and associations, and lets the phantoms of history, Siegfried and Marie, haunt his Veitstanz. The pieces by the other composers, rather concerned about intra-musical processes, appeared in contrast almost well-behaved.
Program note:
Der Veitstanz hat unter den Gesellschaftstänzen dieselbe Stellung wie der Piranha unter den Schmetterlingen. Genauso wie dieser keine bunten Flügel hat, tanzt man jenen nicht im Fünfachteltakt, wie den Wienerwalzer, und auch nicht im Neunzehnzweiundachtzigsteltakt, wie den Falklandtango. Sein Metrum ist ein Bruch mit
π
im Zähler und Unendlich im Norden, aber selbst das ändert sich jeden Tag. Eine typische Veitstanz-Pirouette erkennt man unter anderem an wildem Geschrei, Fußtritten, gebrochenen Nasenbeinen, Schaum vor dem Mund und graziler Anmut beim Rollen der Augen. Aber es gibt auch tausende andere Varianten, deren Einstudierung schon so manchen Eleven in den Wahnsinn getrieben hat. Der Veitstanz zählt zu den choreophagen Tänzen: er verleibt sich andere Tänze ein und deformiert ihre Rhythmen bis zur Unkenntlichkeit. Man sagt, jedesmal, wenn ein professioneller Veitstänzer versuche, Walzer zu tanzen, tanze im Gegenzug Johann Strauss im Grab den Veitstanz. Verwunderlich ist, dass dieser lodernde, leidenschaftliche, ja nachgerade letale Tanz nur wenige Spuren in der Musik hinterlassen hat. Die meisten Veitstanz-Kompositionen enden nach maximal zwei Minuten in wirrem Gekritzel und zerrissenem Notenpapier. Mein Anliegen war, das schleunigst zu ändxefgygfrzjhpkl
Beginning of the score (including detailed instrumentation and performance notes):