Tiefflug
for large ensemble
Excerpt from the world premiere – for the complete recording, see the download area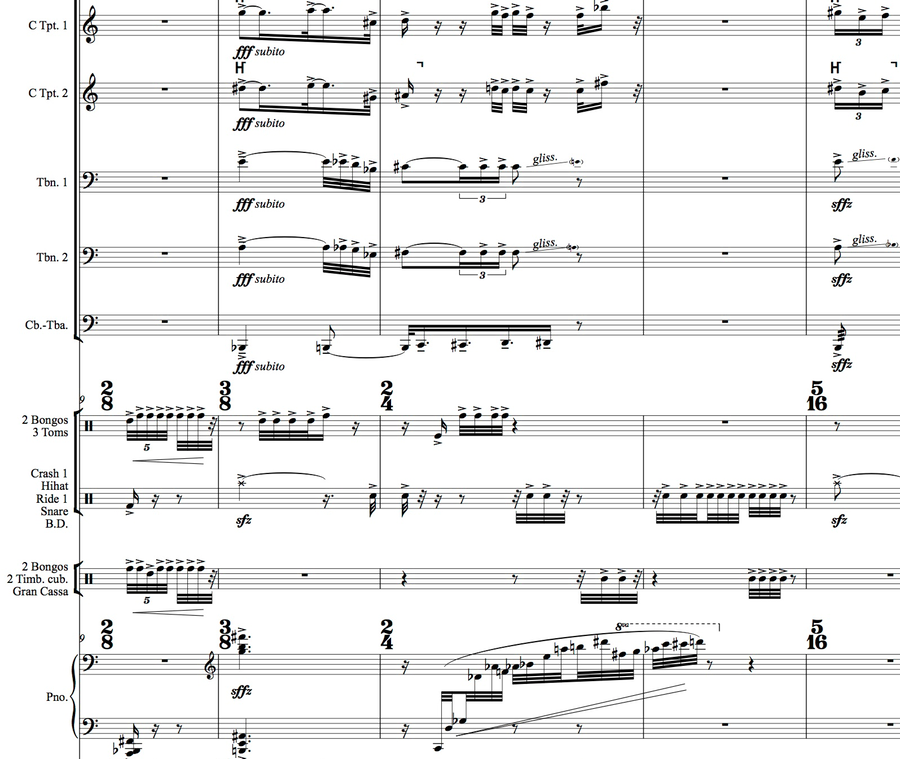 Year of composition:
2011
Publisher:
Commission of Ensemble Intercontemporain. World premiere by Ensemble Intercontemporain Paris in Paris on October 20, 2011.
Detailed instrumentation:
Two flutes, three clarinets, bassoon, two French horns, two trumpets, two trombones, tuba, two percussionists, piano, harp, and double bass
Past performances:
October 20, 2011 Paris
Program note:
Celui qui survole à basse altitude au-dessus de Dresde, Baghdad ou Samarcande, est voué à la mort, ou est un ange. La compression des clochers, des pétales de fleurs, des désirs, des hublots, des grands-pères: la densification de ce monde frémissant verdoyant, rayé coloré, coincé entre les manches d'un quart d'heure : cela doit tuer l'aventurier ou l'immortaliser.

Procuste fut un héros et le général Dostom fut un héros. Leurs avions de chasse volèrent plus bas, plus hasardeusement, plus brutalement que tous. Et ils survécurent.

Nous ne sommes pas des guerriers. Les pétales de fleurs foisonnantes, nous ne les déchirons pas, nous nous laissons bouleverser par leur bref parfum passant tourbillonnant. La vitre que découpent les vainqueurs étincelle, reflétant le soleil, dans notre œil fuyant.

Il n'y a de rédemption du vol à basse altitude que la rédemption. Nous sommes voués à la mort. Nous sommes des anges.
Beginning of the score (including detailed instrumentation and performance notes):