Heroes of Feedback
two person shooter for trumpet, percussion and live-electronics
Trailer for »Heroes of Feedback«, International Ensemble Modern Academy
Year of composition:
2012
Publisher:
Commission of International Ensemble Modern Academy World premiere by Ensemble Modern Akademie in Royaumont on September 9, 2012.
Detailed instrumentation:
trumpet, percussion (one player), guitar amp, loudspeakers, microphones, live screens
Past performances:
September 9, 2012 Royaumont · September 14, 2012 Frankfurt · September 26, 2012 Detmold · September 29, 2012 Karlsruhe · October 2, 2012 Berlin
Program note:
Heroes of Feedback, der Duo-Shooter der nächsten Generation, entführt dich in ein rätselhaftes, gefährliches Paralleluniversum. Die Welt ist von tödlichem Feedback bedroht. Überall stehen Killerlautsprecher, die jeden Moment explodieren können. Alles droht in einer akustischen Sintflut zu versinken.
Du allein kannst die Katastrophe verhindern. Doch diese Aufgabe hat es in sich. Denn die Regeln, denen die todbringenden Lautsprecher gehorchen, ändern sich von Sekunde zu Sekunde. Und deine Waffen sind schwach: nur mit ein paar Trommeln und einer Trompete ausgerüstet ziehst du in den Kampf. Darum musst du höllisch schlau und schnell sein. Ein einziger Moment der Unaufmerksamkeit, und alles ist verloren.
Wirst du hart genug sein, um den Killerlautsprechern Einhalt zu gebieten? Wirst du es schaffen, die Welt vor dem Feedback zu retten?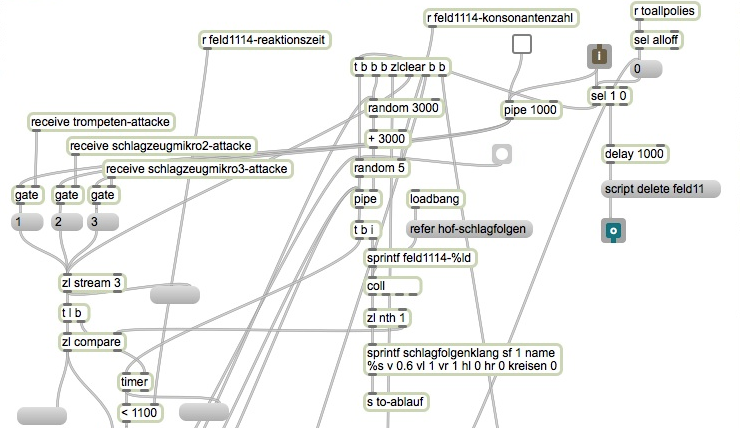 Beginning of the score (including detailed instrumentation and performance notes):